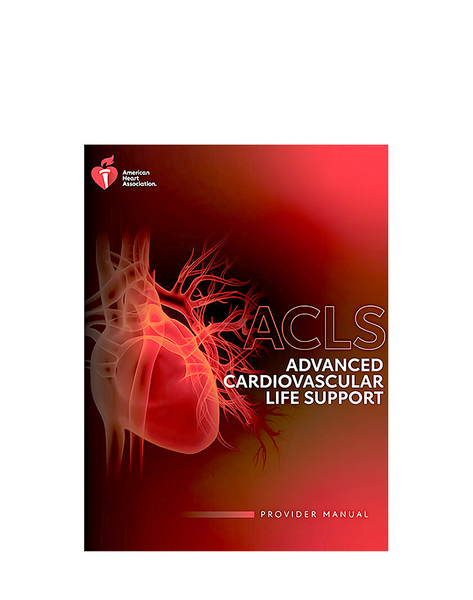 STAT CPR SOLUTIONS
NEW ACLS
COURSE DESCRIPTION
You could purchase the ACLS ebook here. All of our books are shipped priority, so you will get them in a timely manner before class. 
The ACLS course is stress free and relaxed. It is updated with the latest guidelines from the American Heart Association Guidelines for Cardiopulmonary Resuscitation and Emergency Cardiovascular Care. It is designed primarily for healthcare professionals in emergency departments, intensive care units, critical care departments, surgical areas, or pre-hospital environments, such as physicians, nurses, paramedics, respiratory therapists, and other professionals who may respond to a cardiovascular emergency.  ACLS is also highly recommended for nursing students who are seeking employment. We will explain everything in a way that is easy to understand and remember. 
ACLS is based on realistic simulations reinforcing the following key concepts: 
High-Quality Basic life support skills, including effective chest compressions, use of a bag mask device and use of an AED. 
NEW Science of Resuscitation and Systematic Approach.
Identifying and treating ischemic chest pain and acute coronary syndromes; recognizing other life threatening clinical situations (such as stroke) 
Megacode (Ventricular Fibrillation / Ventricular Tachycardia (VF/VT) (Out-of-Hospital and In-Hospital). ACLS algorithms and managing cardiac arrest. 
Recognition and early management of peri-arrest conditions such as symtomatic bradycardia, svt, ventricular tachycardia with pulses.
Cardioversion, Defibrillation and Pacing. Airway management and confirmation devices.
Related pharmacology including Atropine, Adenosine, Amiodarone, Epinephrine and Dopamine.
Effective Resuscitation, Effective Communication, Team Dynamics and post-resuscitation care including therapeutic hypothermia.
Coping with Death.
Please call with any questions.
---
MORE FROM THIS COLLECTION