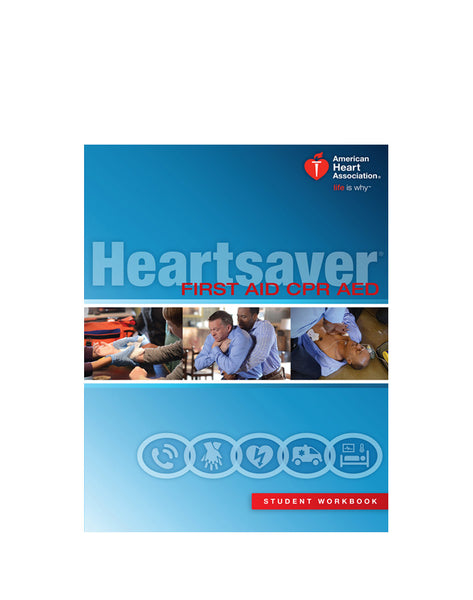 STAT CPR SOLUTIONS
HEARTSAVER FIRST AID CPR AED
COURSE DESCRIPTION
The HEARTSAVER, FIRST AID, CPR, AED course is designed for Non - Healthcare Providers including teachers, school employees, coaches, girl scouts and lay persons to render aid and perform CPR on cardiac arrest patients. This class teaches skills using the AHA's research proven Practice-While-Watching technique, which allows Instructors to observe the students, provide feedback and guide the students' acquisition of skills. This class will give the lay rescuer the skills to recognize the signs of an unresponsive and apneic patient, alert emergency medical services, and perform life-saving CPR with an AED. Moreover, this class will also go over the various medical emergencies that are most commonly faced in today's society ranging from trauma to severe allergic reactions to environmental emergencies. This comprehensive course will give the provider the confidence to render not only CPR in cardiac and airway obstruction emergencies, but to also provide life-saving recognition and treatment for life threatening situations. 
Upon successful completion, students receive a Heartsaver course certification card, valid for 2 years.
Cardiopulmonary resuscitation is an emergency procedure which is attempted in an effort to return life to a person in cardiac arrest. It is indicated in those who are unresponsive with no breathing or only gasps. It may be attempted both in and outside of a hospital.  
CPR involves chest compressions at a rate of at least 100-120 per minute in an effort to create artificial circulation by manually pumping blood through the heart. In addition the rescuer may provide breaths by either exhaling into their mouth or utilizing a device that pushes air into the lungs. HEARTSAVER CPR, FIRST AID, AED course includes:
CPR fort Adult, Child and Infant CPR / AED (with a mask)
Students, teachers, public servants, and any individual around at-risk individuals such as children or the elderly should take this class! The course represents a combined provider class that awards the provider in two certifications: CPR/AED & First Aid.
Alternatively, this course can also be taken separately for those that solely require just Heartsaver CPR/AED or just Heartsaver First Aid. However, we strongly recommend taking both classes at once for not only cost efficiency, but also expansion in life saving knowledge. 
Key changes reflecting the new science from the 2020 American Heart Association Guidelines for Cardiopulmonary Resuscitation and Emergency Cardiovascular Care
First aid basics
Medical emergencies
Injury emergencies
Environmental emergencies
Adult, Child and Infant CPR and AED use. 
Adult, Child & Infant CPR AED (with a mask)
First aid basics (including scene safety, finding the problem, calling for help and more)
Medical emergencies  (including actions for choking, breathing problems, shock, allergic reactions, asthma, heart attack, seizures, stroke and more)
Injury emergencies (including actions for bleeding, broken bones, burns, sprains and more)
Environmental emergencies (including actions for bites and stings, and temperature-related and poison emergencies)
Epinephrine Auto-injector Training and Certification for Lay Rescuers and Off-duty EMS Personnel 
Sudden cardiac arrest (SCA), is one of the leading cause of death in the United States, striking more than 383,000 victims each year, and hundreds of thousands worldwide. More people die from SCA than from breast cancer, prostrate cancer, house fires, guns, traffic accidents and aids combined!
Sudden cardiac arrest can happen to anyone, anywhere, anytime. Without effective bystander intervention, the victim's chance of survival is less than 5%.
With effective bystander CPR provided immediately after sudden cardiac arrest, can double or triple a victim's chance of survival. With the use of an automated external defibrillator (AED), can increase a victim's change of survival by 41-84%.

"About 92% of sudden cardiac arrest victims die before reaching the hospital, but if more people knew CPR, more lives coiuld be saved. Immediate CPR can double or even triple a victim's chance of survival." American Heart Association.
All of our books are shipped priority, so you will get them in a timely manner before class.
Please call with any questions.
---
MORE FROM THIS COLLECTION