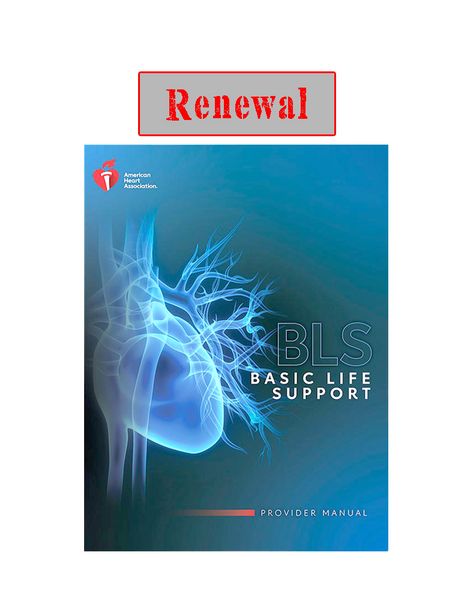 STAT CPR SOLUTIONS
BLS FOR HEALTHCARE PROVIDERS RENEWAL
COURSE DESCRIPTION
All of our books are shipped priority, so you will get them in a timely manner before class. Another option is you could purchase the BLS ebook here.
The BLS FOR HEALTHCARE PROVIDERS RENEWAL course is a relaxed, stress free course which covers core material such as adult, child and infant CPR (including one and two-rescuer scenarios, use of a pocket mask for breathing, bag mask, advanced airway, foreign-body airway obstruction for adults, children and infants, automated external defibrillation (AED) and signs and symptoms of a heart attack. We will explain everything in a way that is easy to understand and remember. 
This is the most recent AHA BLS class with the new guidelines. This class is intended for certified, non certified, licensed or non licensed healthcare providers such as EMS personnel, Physicians, Physician Assistants, Dentists, dental field employees, Nurses, LVNs, CNAs, Respiratory Therapists, Occupational Therapist, nursing students, EMTs, paramedic students, other health / safety professional and anyone who must have a credential card documenting successful completion of an American Heart Assocaition BLS for Healthcare Provider course. 
 This course covers the following:
Critical concepts of high-quality CPR and AED use.
Assessment of Adult, Children and Infants prior to CPR.
The American Heart Association Chain of Survival.
1-Rescuer CPR and AED for Adults, Children and Infants.
2-Rescuer CPR and AED for Adults, Children and Infants.
Differences between Adults, Child and Infant rescue techniques.
Bag-mask techniques for Adults, Children and Infants.
Rescue breathing for Adult, Children and Infants.
Relief of choking for Adults, Children and Infants.
CPR and AED with an advanced airway in place.
Special considerations.
Team Dynamics
Please call with any questions.
---
MORE FROM THIS COLLECTION